Welcome Catholic Schoolhouse families! We are glad and honored to have you as a part of our community!
Our hope for new families is to answer your questions about what is expected and what is not expected. Our chapter is a group to support each other in the role of educating our children. The parents are the primary educators. You choose how much of the material you expect each of your children to master, based on their individual needs and educational goals. It is your choice how in-depth you will cover at home the various topics encountered each week at Catholic Schoolhouse.
We hope you appreciate having support and accountability. None of us wants to get behind in homeschooling. Being in a group helps us to "forge ahead" even when life gets busy, and we are less likely to get behind. Catholic Schoolhouse is a way to be encouraged and inspired as homeschooling families!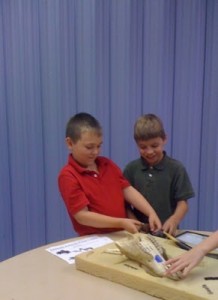 Catholic Schoolhouse provides an opportunity for students to see their friends on a regular basis. This is such a blessing! Although we can (and do!) arrange for play dates, there is something special about a 3+ hour program that meets regularly for an entire academic year with the same children. They have a shared experience that strengthens their existing friendships and helps them make new friends.
You may find that your children will be sad when we have one week off per month–they may give you all sorts of ideas for how not to have a week off. It is beautiful to see how much our precious children truly enjoy Catholic Schoolhouse! As their primary educator, though, you will benefit from having "permission" to have a week off from the co-op. It allows you to have time for scheduling doctor appointments, running errands, attending Eucharistic Adoration, making lesson plans, having read-aloud time, doing a household project, getting caught up on sleep, or anything else you see fit! You will quickly make good use of a week "off" from the co-op based on your family's priorities.
For Advent and Christmas, we have a generous break. Likewise for Holy Week and Easter week, we take time off from the co-op. We value allowing families to have time to maintain holy family traditions during these very important times of the liturgical year, drawing us closer to Christ. As our children's primary educators, it is very important to have "extra" time in our schedules to teach our children how to live out the liturgical year during Advent, Christmas, Lent, and Easter.
If you have more than one student enrolled, Catholic Schoolhouse will simplify your life. Now your 3rd grader, 5th grader, and 7th grader can all learn the same basic subjects, although your 7th grade dialectic student will be learning the content more in-depth than the grammar students. Around the dinner table, you can all discuss physics. Instead of your 3rd grader learning earth science, 5th grader learning biology, and 7th grader learning chemistry, they will all study physics during the same quarter; likewise, the other subjects will overlap for all children, too. At dinner, you could choose to talk about other subjects that are all overlapping–such as history, geography, music, and art. This is why the program is called "Catholic Schoolhouse." The goal is to have the family learning the same general content at the same time, like in a one-room schoolhouse.
As your children begin to attend class and listen to the memory work CD's, you will be pleasantly surprised how easily they learn!  This program will be an incredible blessing to your homeschool.  Please ask if you have any questions about the curriculum, our group, or homeschooling in general. We look forward to hearing from you!
In Christ,
Your Catholic Schoolhouse Green Bay Directors
He proposed another parable to them. "The kingdom of heaven is like a mustard seed that a person took and sowed in a field. It is the smallest of all the seeds, yet when full-grown it is the largest of plants. It becomes a large bush, and the 'birds of the sky come and dwell in its branches.'" (Matt. 13: 31-32)