A main theme for Tour 3 art is paint!  During art class, we have been studying famous artists and their paintings from the Renaissance through modern times.   The scholars used water colors, acrylics, and other paints. They studied perspective and painted a sunset scene using watercolors.
The scholars were introduced to El Greco. They discussed his painting of St. Matthew, St. Martin and the Beggar, and his Adoration of the Shepherds. The studied the ideas of drawing with elongation, used resist methods, and focused on learning to draw faces.  Scholars learned about color matching and blending of paints.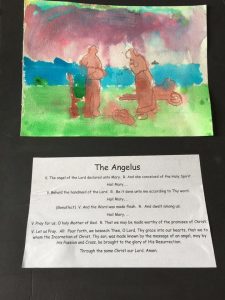 Rembrandt was introduced to Rembrandt van Rihn's works, including The Risen Christ Appearing to Mary Magdalen and Moses with the Ten Commandments. They completed a 3-D Cubes Value Study. They not only drew a cube, but they painted their cube based on the light source perspective.
They created a Ten Commandment tablet using cardstock. They mimicked Rembrandt's painting and use of light with oil pastels, and made their Ten Commandment tablet look worn by using a steeped, wet tea bag to rub their tablets to look aged. The scholars created their own version of Rembrandt's Adoration of the Shepherds. They created a simple nativity scene using acrylic paints. A key feature was making it look like a light source was radiating from baby Jesus. This advanced their ability to mix the tints of paint, cutting, and arranging their artwork.