We would love to share with you some of the fun and amazing learning experiences we are having this year!
During a field trip, the scholars learned about ancient Greece and Rome. They had an opportunity to try on some attire similar to what ancient Greeks and Romans wore!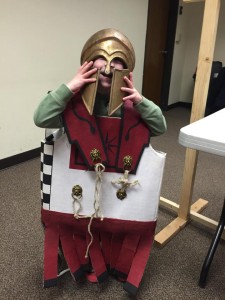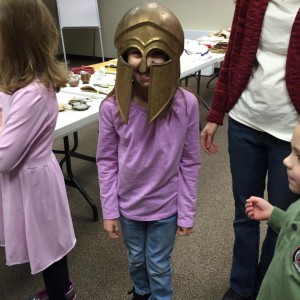 We were blessed to hear Dr. Gregory Aldrete speak about ancient times. Dr. Aldrete is a professor from UW-Green Bay and is also known for his Great Courses and research with students on ancient linen armor used in battle. Here are some amazing videos about his work: https://www.youtube.com/watch?v=7cTnntgMO8o and https://www.youtube.com/watch?v=0ERSx1o8wwk)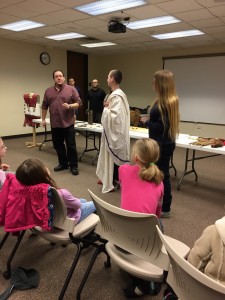 During the co-op, scholars enjoy weekly activities to help them learn the memory work:
During science, grammar scholars experience hands-on activities and demonstrations.
Our tutors use a variety of visual aids to assist scholars in learning the memory work.
During the Year 2 cycle, scholars learn the basics of playing the recorder.
Content is made age-appropriate. The youngest scholars, ages 4-6, are taught the memory work in a different way than our older scholars. The tutors carefully create their lessons keeping in mind the ages and interests of their scholars.
Babies are always welcome at our co-op!
The scholars and nursery children look forward to the co-op. It's a joyful highlight in everyone's week!